Staining and Coverslipping
The Combination Solution: Staining, Slide Transfer, and Coverslipping
Staining, Slide Transfer, and Coverslipping
The Combination Solution: Staining, Slide Transfer, and Coverslipping.
We are constantly searching for ways to streamline your workflow while enhancing your results.
The innovative Slide Basket Transfer System (SBTS) eliminates the need to manually transfer slide baskets from the Gemini AS slide stainer to the ClearVue coverslipper*
Simply place slides in the Gemini AS slide stainer and carry on with other tasks without distraction
An alert sounds when the slides have finished coverslipping in the ClearVue coverslipper
With a small footprint, the combined solution of the Gemini AS slide stainer, Slide Basket Transfer System, and ClearVue coverslipper seamlessly fits into virtually any laboratory workflow
Removing simple manual tasks accomplishes both goals. That is why we created the Slide Basket Transfer System™ (SBTS) to connect our flagship Gemini AS Slide Stainer and our industry-leading ClearVue Coverslipper. Working together, this Combination Solution helps you achieve a new level of lean for your laboratory.
Confidence begins with a crisp, well-defined stain
Our staining centers achieve optimum staining performance with nuclear clarity and superb definition, and can be used with a wide variety of easy-to-use stains.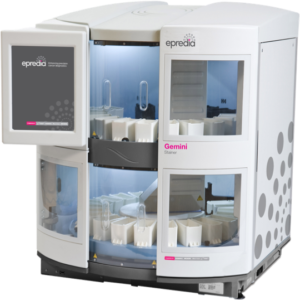 Gemini AS Slide Stainer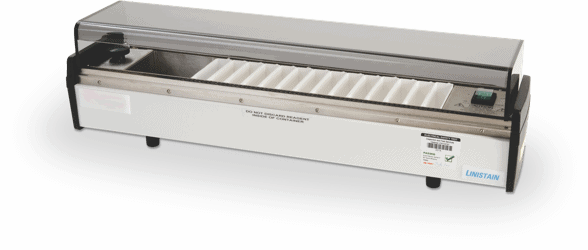 Linistat Linear Stainer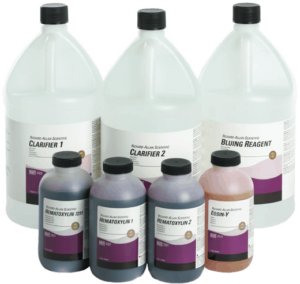 Signature Series Portfolio
Experience intuitive efficiency with two innovative systems
Coverslipping can be a tedious task in your laboratory. Epredia offers two options for any laboratory, the ClearVue coverslipper with automated coverslipping technologies, and the CTM6 that has the power to coverslip hundreds of slides per hour.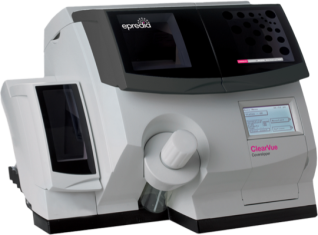 ClearVue Coverslipping
Offers compatibility with a variety of stainers to accommodate almost any lab setting
Handles both histology and cytology samples simultaneously without user interaction while delivering user definable amount of mountant for each sample type
Load-on-demand capabilities can manage up to eleven slide baskets at the same time
CTM6 Coverslipper
Coverslip hundreds of slides per hour with a self-cleaning dispensing needle
Quick and easy change of different sizes and styles of coverslips for versatility with different slides and tissue types
Load and unload rack without opening the hood